On this episode, Fr. Richard Rohr responds to listeners questions on some of the most pressing themes of his book, The Universal Christ. In conversation with Paul Swanson and Brie Stoner, Richard responds to listener questions on Parenting, for example:
How do I give my children the order they need, while knowing that it will quite soon let them down? 
I want to raise my son in the Christian tradition, however I find that most of the mainstream Christian teachings for children do more harm than good.How can we talk about the Universal Christ with my son in an age-appropriate way? 
Visit cac.org/podcast to listen to season one of Another Name for Every Thing 

Visit universalchrist.org to learn more about the core themes of Richard's latest book The Universal Christ: How a Forgotten Reality Can Change Everything We See, Hope For, and Believe
People & Resources Mentioned 
Universal Christ Liturgy 
Jean Huston's account of walking with Pierre Teilhard de Chardin as child 
Children Books 
Where is God? by Rabbi Lawrence Kushner 
Refuge by Anne Booth & Sam Usher 
Mindful Movements: Ten Exercises for Well-Being by Thich Nhat Hahn 
Peaceful Piggy Meditation by Kerry Lee MacLean 
The Three Questions by Jon J. Muth 
You Are Stardust by Elin Kelsey and Soyeon Kim 
Little Tree by Loren Long 
You Belong Here by M.H. Clark and Isabelle Arsenault 
What Do You Do with a Problem? by Kobi Yamada and Mae Besom 
Older Kids 
C.S. Lewis 
George MacDonald 
J.R.R. Tolkien 
Harry Potter Series 
Poetry 
Comments (1)
To leave or reply to comments, please download free Podbean or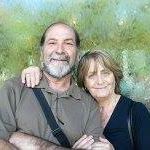 My wife and I raised four children - two girls and two boys - and we discover that you cannot force anything on them in the way they think because they are their own person growing up working out their own autonomy and reality. However, even though they seem to be ignoring your advice they cannot stop observing how us - their parents - go about whatever we do or think. Our behaviour - more then our words - seem to have an impact on them. They cling to you well into their adulthood and unwittingly parents are an ongoing model - or a model of, or, a yardstick for their own lives. So for good or bad parents lead by example more than words or advice. Therefore, the best lesson that parents can give to their children is loving each other through thick and thin and the values they hold. Also from a very early stage our children are influenced for good or ill by their peers and what's going on in the world around them - they are absorbing that too and no doubt comparing it with what happens at home. Conversely the "Jesus" factor for my wife and I has been dominant and at least our lives witness to it for our children's observation too - whatever they make of it themselves.